Philosophy
These Masters in Management programs are open to all students with a Bachelor degree from any academic field: Management, Finance, Engineering, Fundamental Science, Linguistics, etc.
Our students come from all over the world which, in addition to building a wide network, provides an inspiring and stimulating working environment.
Whatever your initial background is, we truly believe in candidates' potential and make it our mission to support and guide you to achieve your professional aspirations.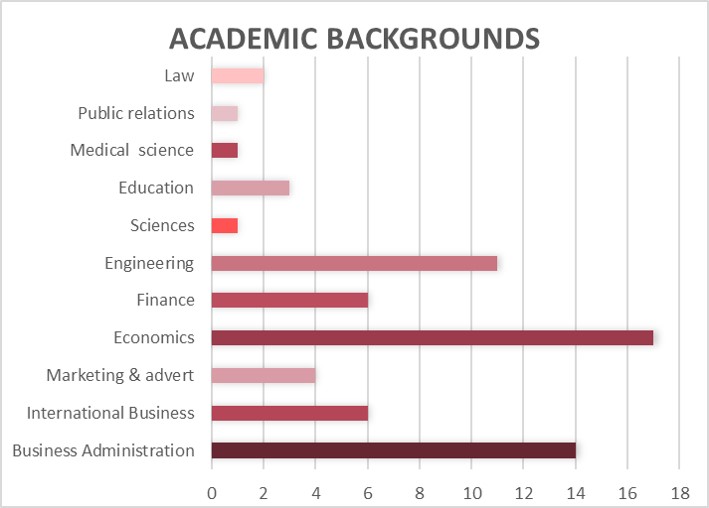 These programs enable participants to:
Work in an international and entrepreneurial context
Develop a strategic, operational and international mindset;
Be thoroughly prepared for a more digital and global job market;
Acquire the know-how to lead a project team efficiently in an international and multicultural environment;
Develop an ability to be innovative and creative while analyzing and finding relevant solutions, particularly to overcome risks inherent to projects;
Work on simulations, real projects and cases in class to inspire the scope and the stakes of projects in different industries;
Learn from international teams and multicultural managers to practice soft-skills and handle complex situations;
Study totally in English, the international language for business, and acquire French language as a plus to understand and work with francophone businesses and cultures;
Study in the center of Paris, the heart of European businesses and headquarters of almost all multinational firms.
Build an international expertise and become an international developer:
CEOs and top management teams of corporations/organizations acknowledge that globalization is the most critical challenge they face today. With every industry and product becoming more global, being able to understand and manage internationalization is a crucial determinant for success in the job market. The Master in International Business and Corporate Development addresses all the dimensions of the international development of the enterprises. This Master is designed for future global managers who intend to participate in the renewal of international managerial practices, notably by integrating sustainable and digital development, putting globalization in perspective and anticipating the evolution of international companies (geopolitical drivers, new global players, new business models, new missions, etc.).
Project Management and Value Creation:
The stakes of the Master in Project Management and Business Engineering is for students to acquire a strong grasp of Project Management in order to become major actors in their company and create high added value products or systems. Students will acquire the ability to understand the market, the company environment and the internal processes generally existing within a company as well as making the best of an international team. Graduates will become key contributors participating in the creation of company's future through their abilities to create new wealth and values.
Pacing with Digital transformation in Business:
The growing digital transformation (Internet, Big Data, Artificial Intelligence, IoT, etc.) had and will have a tremendous influence on many aspects of B2C and B2B businesses. Internet has not only transformed existing market structuresbut also given rise to new markets. Digital transformation is on the way to blend traditional business features and new businesses opportunities. Thus, there is a great demand for e-Business professionals with specific knowledge and skills.
The main objective of the Master in e-Business and Digital Marketing is to prepare future managers to work in a disrupted and fastmoving digital environment. The focus is on acquiring a digital culture and practical knowledge which will be necessary to work in any field today and in the future.
Become responsible managers and executives:
The final objective of the Master in Sustainable Development and Quality Management is to allow students to acquire a double competence in integrated systems management and organizational performance management (QSE) and a training integrating all aspects of sustainable development and CSR based on project management.
Our students are trained to be committed and responsible managers and executives. They are also able to manage projects and lead teams.
Further information
Emmanuelle Rochefort
External Relation Manager
Tel : + 33 1 40 27 26 36
Cnam-IIM
Case courrier EPN15
2, rue Conté
75003 Paris