Specializations
The Cnam-IIM Master in Management programs offers three specializations. Each provides the opportunity to deepen one's knowledge in one particular dimension of management and develop niche expertise in the subject of choice. The specializations also define the Master degrees, include:
Sustainable Development and Quality Management (coming soon)
Project Management & Business Engineering
This Master is designed for:
Potential key actors in the creation of added value processes, products, businesses;
Potential professionals willing to develop an entrepreneurial spirit.
Potential project coordinator wishing to coordinate a wide range of professional expertise;
Potential project managers who believe mastering Human Resources skills is crucial for success.
This Master aims at:
Developing the capacity to master Project Management tools;
Being able to apply tools and skills in order to produce relevant proposals through an appropriate analysis of a situation;
Enabling the integrative Project Management skills;
Being able to integrate Project Management processes and become significant actors to added value creation process within a company;
Developing Entrepreneurship skills. Project Management combined with Business Engineering are two essential ingredients to develop entrepreneurship;
Enriching the creation of strong added values at considerable time and cost dimensions of projects.
Core skills:
Innovative methods to create some optimum added values;
Project management methods;
Business engineering (Added value creation process);
Human resources management;
Multicultural project team management.
Career opportunities:
This Master intends to help students start a rewarding career with a large choice of positions and careers:
Project Management Officer (PMO)
Project Manager
Business Plan Entrepreneur
Project Risk Analyst
Business Process Analyst
Junior Program Coordinator
Innovation and Technology Manager
Project Portfolio Analyst
Project Assistant and/or Consultant
International Business & Corporate Development
This Master is designed for future global managers who intend to participate in the renewal of international managerial practices, notably by integrating sustainable and digital development, putting globalization in perspective and anticipating the evolution of international companies (geopolitical drivers, new global players, new business models, new missions, etc.).
This Master is designed to:
Develop students critical thinking as well as practical knowledge through real case studies, feedback from very experienced professionals and a minimum of 3 months professional experience.
Provide students with the skills required to manage firms in a challenging globalized, sustainable and digitalized world. Thanks to small dynamic and multicultural classes and courses designed to develop an analytical mindset, a creative and smart problem-solving approach and intercultural-based understanding of management, students will acquire an international expertise and become the ideal candidate for any professional position that involves contributing to corporate (or business unit or project) international development.
Core skills:
Ability to operate and negotiate in a multicultural and changing environment. Students will develop interpersonal skills that make it possible to work with different audiences, countries or cultures and to lead international teams.
Ability to conduct competitive intelligence by watching and searching for quantitative and qualitative information about the international environment and professional sector in order to anticipate changes (identifying key players, new consumer needs, new markets, etc.)
Ability to design an International Development Strategy integrating new capabilities to acquire as part of the international development of a company.
Ability to implement International Development Strategy (customs, commodity trading, financing, legal issues and risks coverage).
Ability to conduct sustainable and digital development.
Thanks to the complete curriculum design of the Master in Management (MIM) concept, the Master in International Business and Corporate Development enables also students to:
Master the principles and tools for managers of business units or firms with up-to-date international management topics in the real business environment
Build a concrete view of the working environment, especially in the specific European business framework with Professional skills development (career management, professional experience)
Achieve intercultural and additional competencies relying on students' original degree in sciences or engineering or students' intercultural experience and engagement.
Study and practice skills in the international language of business: English, yet obtain free additional French language classes (different levels) and French culture;
Study in downtown Paris, close to main European businesses and headquarters of multinational firms.
Career opportunities:
The international developer holds strategic positions in multinationals, small and medium-sized enterprises internationally oriented, or international consulting firms.
Start a career:
In the world of strategy and consulting
Work as an intrapreneur who drives change processes in organizations or NGOs
Join an established start-up or found your own company in a European or international context
Since 2011, our alumni have been hired by companies across 4 continents with positions of:
International Business Developer
Entrepreneur
International Brand Manager
Consultant
Project Manager
Business Analyst
Sales & Marketing Manager
Logistics & Production Manager
Area Manager
Financial Controller
Senior Finance Officer
Chief Legal Counsel
e-Business & Digital Marketing
This Master is designed for:
New marketers and future managers who need to master new key concepts: dematerialization, new distribution features, multi and cross channel, big data opportunities, new marketing features;
Those who wish to acquire the basics of digital project management in order to be ready to participate and lead teams and project in complex web project including agile process, user experience, digital technology, project planning and budgeting.

This Master aims at:
Combining E-commerce and Digital Marketing. This combination gives participants a broad view of E-business challenges and key principles, Practical knowledge and Critical thinking in Digital Marketing and Communication, to be ready for E-business models (new models, new channels, new media, logistics, human, physical and virtual resources, etc.);
Mastering the bases of Digital Marketing tools and Engineering. These tools are a combination of a large range of topics including Social Media and search,new Consumer Behavior, Web Analytics skills but also Cyberlaw, E-commerce and Logistic, Project Management, B to B Marketing, etc;
Enabling the capacity to participate and lead complex digital projects. The program includes a broad range of topics such as Agile Process, User Experience, Digital Technology, Project Planning and Budgeting. The pedagogical approach provides students with relevant tools and skills to manage challenges of complex web projects.
Core skills:
Ability to contribute or to run a digital business;
Ability to build a digital marketing strategy;
Ability to upgrade traditional businesses with digital strategies.
Career opportunities:
This Master intends to help students start a rewarding career with a large choice of positions and careers:
Digital Marketer
Social Media Strategist
Web Analyst
Digital Account Executive
E-Business Developer
E-Commerce Entrepreneur
E-Marketing Developer
Internet Marketer
Digital Transformation Officer
Further information
Emmanuelle Rochefort
External Relation Manager
Tel : + 33 1 40 27 26 36
Cnam-IIM
Case courrier EPN15
2, rue Conté
75003 Paris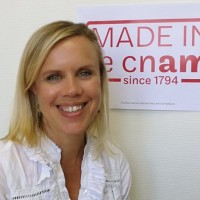 For more information on our Master's degree in Management, click here: