Program Structure and Study Modes
Program Structure
Remaining faithful to its founding principle of encouraging professional transformation, the Cnam Executive MBA Program has been completely developed in order to meet the needs of managers' ambitions in today's business world.
What we have created is an innovative MBA program that delivers value to our students in multiple areas, including:
Customized Curriculum with the possibility of switching between full time and blended learning modes, with the choice of different study tracks such as Innovation Management, Fashion Business Management, Project and Agile Management, Business Unit Management and Insurance Management which take full advantage of the Cnam's vast courses catalogue. Learning at the Cnam MBA is specific for your professional needs and goals, yet flexible with the professional activities and evolving business practices.
Personal Development starts from the admission procedure to after the graduation where our world-class faculty engages with and challenges students, deploying integrated teaching methods that are designed to enhance strategic vision, design thinking, analytical ability, complex problem solving, as well as creativity, leadership and team management skills. Learning at the Cnam MBA is effective, collaborative and sense-making perspective on management.
International Networking is made possible by our strategic location in the heart of Paris, the center of business, and cultural exchange. The Cnam MBA attracts a diverse group of talented students from around the globe, meeting with recognized professionals from different industries in a variety of settings. Learning at the Cnam MBA is a multicultural journey as students spend time to study trips abroad at one or more of our partner institutions in Europe, US and Asia.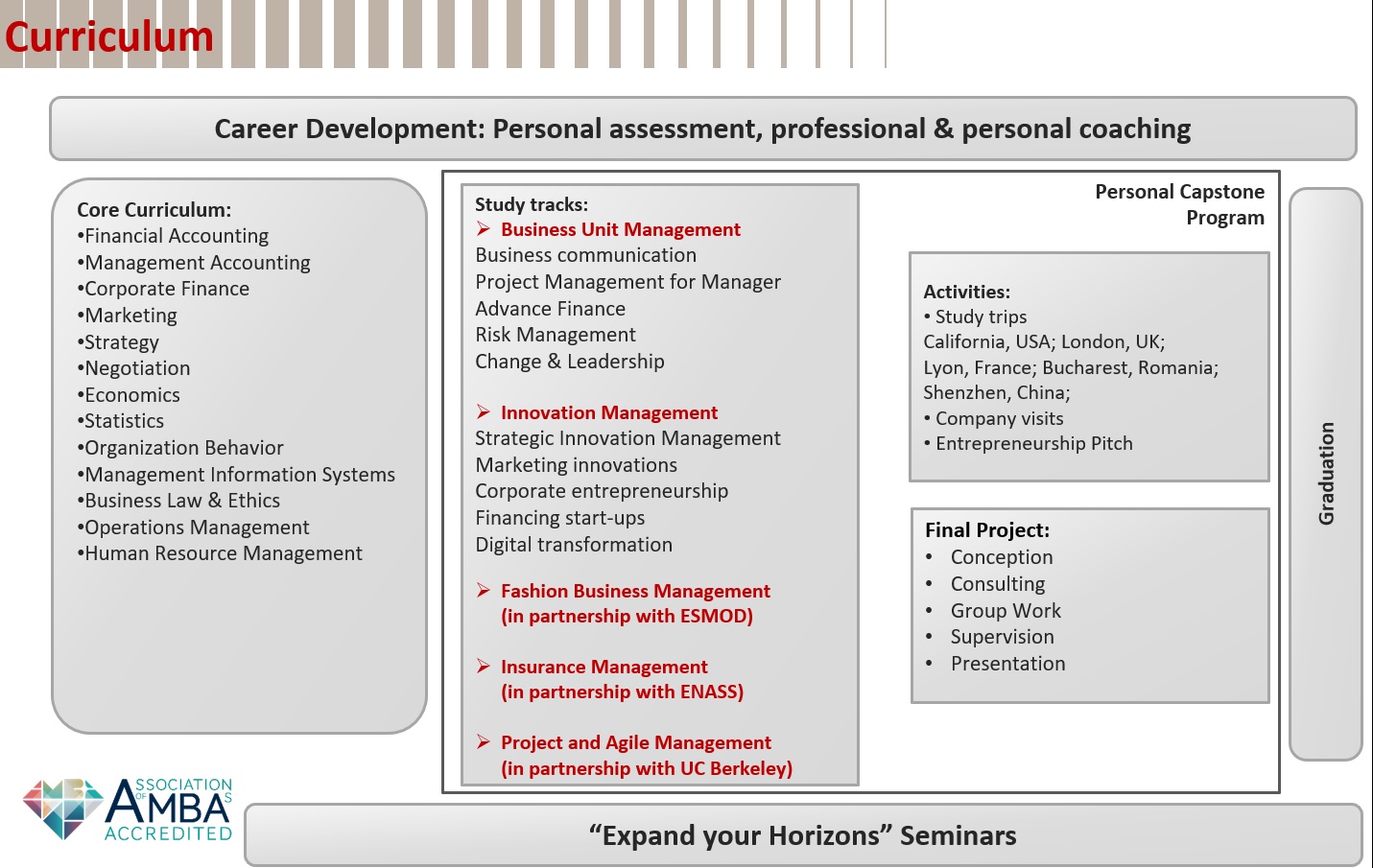 Study Modes
With 2 different learning modes, the Cnam Executive MBA offers the flexibility you need to organize your studies around your professional and personal life.
"Intensive" - 1 year (30 hours per week, between Mon-Sat)
"Blended or Hybrid" - 2 years (14 hours per week, online learning: weekly and onsite learning: once per month)
Our study modes provides students with the values of:
Consistent: 100% courses in English, 1 curriculum of 13 core modules, 5-8 electives, coaching and networking, study trips and a final project.
Flexibility: Possibility to complete the curriculum from 1 to 3 years and switch learning modes between onsite and online classes, intensive (everyday) or extensive rhythms (every weekend or every month)
Assessible: 2 intakes per year: October or January. Training eligible to professional financial support and funding. Possibility to set installments from 1 to 3 years for individuals.
Adaptable: A large selection of elective courses with modular electives & minors on different practical subjects. Possibility to take modular electives for certification.
For more information on our MBA, click here:
Download the brochure and the application form
MBA Brochure
MBA Fashion Business Development
MBA Insurance Management
MBA Project and Agile Management

Download the brochure and the application form
Further information
Emmanuelle Rochefort
External Relation Manager
Tel : + 33 1 40 27 26 36
Cnam-IIM
Case courrier EPN15
2, rue Conté
75003 Paris